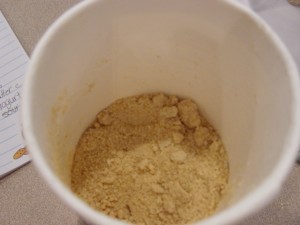 My whole adult life I have always purchased bread crumbs. A few weeks ago, during one of my baking days, I wondered why in the world I wasn't making them myself. I guess I thought it would be too hard or time consuming. It isn't!
Making bread crumbs is simple. Take leftover bread, make sure it isn't stale, but dry. You can dry out your bread by putting it in the oven at 300 degrees for about ten minutes, flip at the five minute mark. Then take your dried bread and put it in your food processor, or blender (if your blender can chop that type of stuff). In about 25 seconds you have bread crumbs! Store the bread crumbs in the freezer.
A few quick tips:
When you have bread that isn't soft enough for sandwiches anymore, stick it in the freezer. When you have several pieces make the bread crumbs.
You can make Italian style bread crumbs by adding a little bit of oregano, parsley, garlic, and parmesan cheese.
Here is a delicious chicken recipe using homemade bread crumbs.
Making your own bread crumbs won't make you rich, but you will save money, create less waste, and know exactly what is in your food.
Find more kitchen tips at Tammy's Recipes.