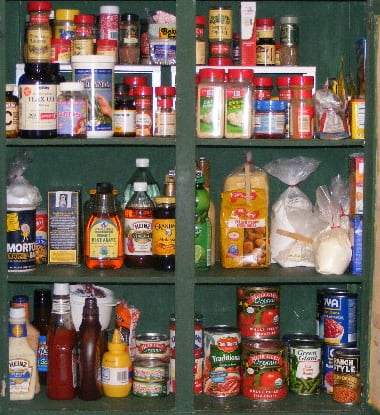 Last night I cleaned out my pantry and freezer. This cleaning frenzy began because while we were eating dinner I noticed that 3 out of the 4 salad dressings on the table (that were already poured on our salad and resting in our stomachs) were expired! After dinner was cleaned up I headed straight to the pantry to check my stockpile of salad dressings and canned goods. There is no point in moving expired food!
I was sad to find several items that were way past their expiration date. One can expired in 2007, which means I have moved it at least 4 times, maybe 5!!!
Now, I am not recommending eating expired salad dressing, but I ate it with no ill effects. What do dates on food really mean, and how long past the date is food safe to eat? I hate throwing food away, but I don't want to end up sick for a week because of a bad bottle of ranch. While searching the internet looking for information regarding expiration dates, I found a site that will help you figure out whether to keep or toss many of the items in your fridge or pantry.
Some interesting shelf-life information from the site:
Hershey Bar: Lasts one year from the production date. (As if any Hershey bar lasts that long!)
Brown Sugar: Lasts forever if stored correctly
Marshmallows: Unopened 40 weeks, opened 3 months
If you ever wonder whether you should throw out that half empty bottle of ketchup, this list is sure to help you. It even lists household products like toiletries, cleaners and more.
And, as a message from one friend to another, clean out your pantry more frequently than I apparently do. I figured moving every year for 8 years would have been enough, but apparently those tiny cans of evaporated milk were hiding from me all this time!