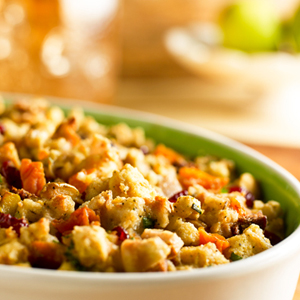 Is it possible to eat turkey without stuffing? It isn't for me! Turkey without stuffing just isn't right. Some years I make my own stuffing, but when I'm short on time and cooking for a bunch I usually use packaged stuffing as a short cut.
This week I've been challenged by Pepperidge Farm create my own stuffing recipe, with a Florida twist. I've been thinking about what foods are "Florida" and so far I've come up with catfish, shrimp, gator, oranges, grapefruit, corn, limes, and strawberries. Can you think of any  "Florida" foods I might be missing?
I'll be testing some of my ideas this week and sharing with you my original stuffing recipe next Monday.
Do you have a favorite stuffing recipe you love to use during the holidays? Do you ever "jazz up" your basic stuffing? What are your tips for creating a special stuffing recipe that will wow your Thanksgiving guests?
Disclosure: Pepperidge Farm provided me with a stipend for time and materials invested in the Stuffing Recipe Challenge.