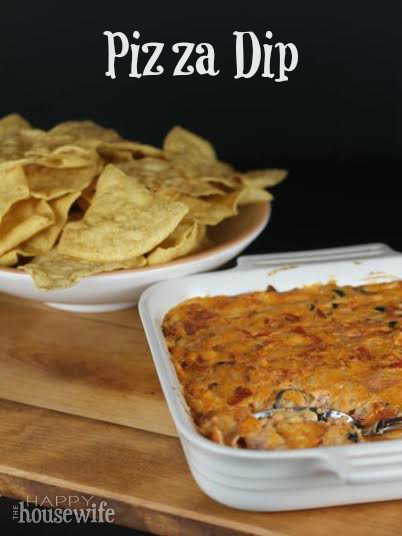 By contributing writer Lynn
This pizza dip takes the flavors of pizza and turns it into an appetizer that's perfect for game day munching. And with the Olympics coming on the heels of  the Super Bowl, you might be making this recipe a lot this month. Of course, pizza dip is delicious any day and is sure to be eaten up in a hurry.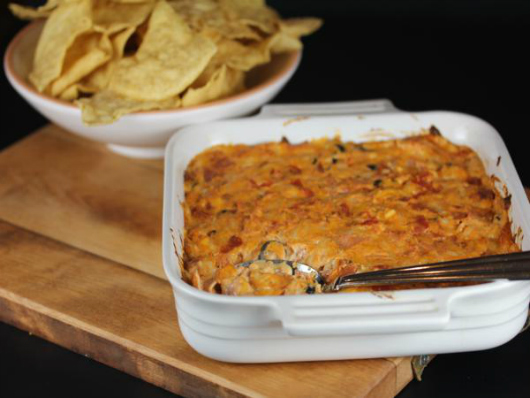 Print
Pizza Dip
Ingredients
2 8-ounce packages cream cheese, room temperature
2 cups pizza or marinara sauce
8 ounces pepperoni, chopped
4 ounces Canadian bacon, chopped
1 3.8-ounce can sliced olives, drained
2 cups shredded mozzarella or pizza cheese, divided
chips or bread sticks for serving
Instructions
In a bowl mix together cream cheese and pizza sauce.
Stir in pepperoni, Canadian bacon, olives, and 1 1/2 cups cheese.
Spread into an 9 x 9 inch or similar sized dish.
Sprinkle with remaining cheese.
Bake at 350° for 20-25 minutes or until heated through and cheese is melted.
Courses Snack
Need more snacking ideas?
Lynn writes at Lynn's Kitchen Adventures, sharing cooking tips, recipes, and ideas of how to fit a love of cooking into a busy life. She also has a special allergy section  where she shares recipes and thoughts on living with food allergies.