This Pork Scallopini dish comes together in less than 30 minutes. It is easy and so delicious.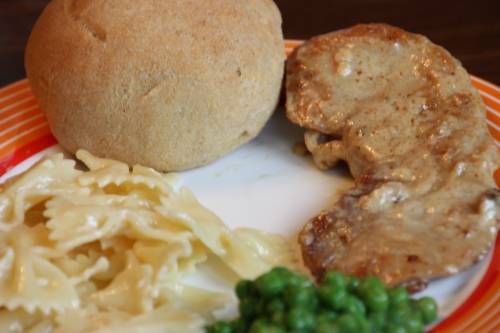 Print
Pork Scallopini
This dish comes together in less than 30 minutes, easy and so delicious.
Ingredients
1 pound thin boneless pork chops (less than 1/4 inch thick)
1/4 cup flour
1 tablespoon each butter and olive oil
1/3 cup chicken broth
1 tablespoon minced garlic
1 tablespoon lemon juice
1/2 cup whipping cream
1-2 tablespoon Dijon mustard
Instructions
Dredge pork chops in flour. In a hot pan add oil and butter, fry for about 3 minutes on each side.
Remove from the skillet and repeat with the remaining pork chops until you have cooked them all. (You might need to add more butter and oil during the cooking process.)
Remove the pork chops from the skillet and in the same skillet, on low heat, mix mustard, broth, garlic, lemon juice, and whipping cream.
Add the pork chops back into the skillet and cook for another 3 minutes.
Serve immediately.
Notes
If you can't serve right away, put the pan in the oven at 200 degrees. The sauce will separate a little, so stir it again before serving.
Courses Main Dish