My kids really enjoyed these pumpkin muffins. My daughter said they needed walnuts to be "perfect" so I'm adding walnuts as an optional ingredient in the recipe.
These pumpkin muffins make a great breakfast or afternoon snack.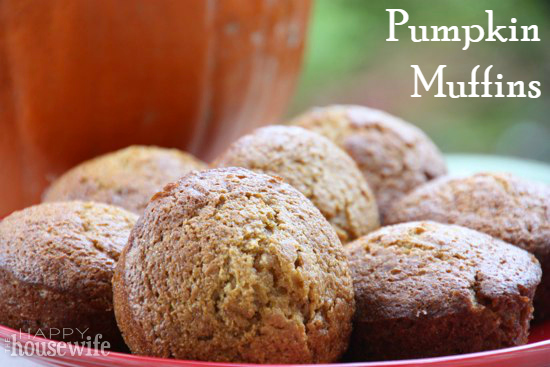 Print
Pumpkin Muffins
Ingredients
2 cups whole wheat flour
1 teaspoon baking soda
1/2 teaspoon baking powder
1/2 teaspoon salt
1 teaspoon cinnamon
1 stick butter softened
1 cup light brown sugar
1/4 cup white sugar
3 eggs
1 teaspoon vanilla extract
1 cup fresh puree'd pumpkin
1/2 cup chopped walnuts (optional)
Instructions
Cream butter and sugars together for 2 to 3 minutes.
Mix in pumpkin, eggs, and vanilla.
Add flour, salt, baking soda, baking powder, and cinnamon.
Stir until moistened.
Do not over mix.
Add nuts (optional)
Spoon into greased or lined muffin cups and bake at 350 degrees for approximately 15 minutes.