The following is a post from contributing writer SnoWhite.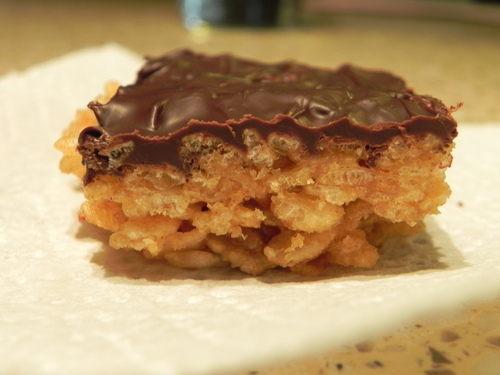 Some simple spices turn your every-day marshmallow and cereal snacks into a fall favorite.
Print
Pumpkin Rice Krispie Treats with Dark Chocolate
Ingredients
2 tablespoon butter
1 heaping tablespoon pumpkin (or sweet potato) puree
1 bag (10.5 ounce) mini marshmallows
1 teaspoon cinnamon
1/2 teaspoon nutmeg
6 cups brown rice krispie cereal
1/2 - 1 cup dark chocolate chips
Instructions
Melt the butter in a large saucepan over medium heat.
Add in the heaping tablespoon of pumpkin or sweet potato puree
Stir in the marshmallows until melted. Stir continually.
Add in the spices and stir to combine.
Mix in the cereal.
Spread the cereal treats into a 9x13 greased pan.
Sprinkle dark chocolate chips over the top and allow them to melt.
Spread the melted chocolate over the top of the bars.
Cool and cut to serve.
Store at room temperature in an airtight container.
Notes
If you have trouble getting the chocolate chips to melt, place the tray of bars into a warm oven. Do not bake. Simply heat your oven up for 5 minutes to a temperature above 350. Then, turn the oven off and set your tray of bars into the oven. Allow the bars to sit in the oven for 5ish minutes and you should have melted the chocolate chips.
Courses Dessert