For many years I've recommended keeping quick snacks in your pantry for those crazy days.
My kids love granola bars and oatmeal so I was excited to try out the Quaker Soft Baked Bars. They are available in two flavors, cinnamon pecan bread and banana nut bread. I thought the banana bread variety would be their favorite, but I was wrong. The cinnamon pecan bread variety won hands-down.
For best results warm the bars for 10 seconds in the microwave. My kids are the snackers in my family so I would definitely keep these on hand for a quick snack, but if you snack throughout the day you'll love the fact that each bar only has 140 calories, with 5 grams of fiber and 6 grams of protein! These little bars pack a big punch!
My husband loved the cinnamon pecan flavor too and will probably find these bars showing up in his lunch pretty soon!
These bars would fit nicely in your purse or diaper bag to keep on hand while out running errands and you'll be able to avoid stopping for nuggets and fries, saving money and giving your kids a wholesome food.
I also found that these bars make a great breakfast snack for your late risers. During the school year my kids all have to be in the kitchen and ready for the day by 8am. My older kids do not get up early, so 8am is a challenge for them. During the summer I let them sleep in and some times that means they miss breakfast!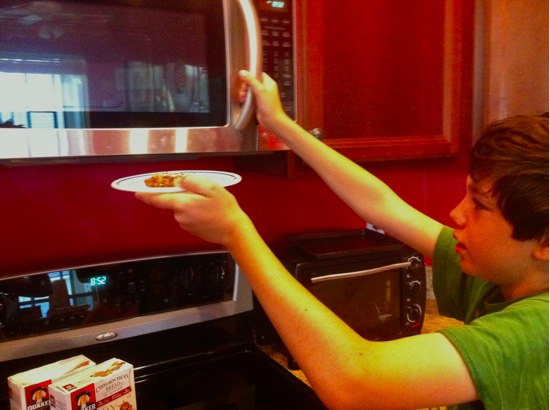 The Quaker Soft Baked Bars are easy for even a small child to prepare on their own.