I love trail mix. It is one of my favorite snacks to take when we are on the go. It holds up well when you travel and the kids love it.
I'm not a huge fan of premade trailmix for one reason.
Raisins.
It seems like every trail mix you buy at the store contains a ridiculous amount of raisins. The problem is that there is only one child who likes raisins in my house and even I tend to pick around them when I'm eating it.
I realize the raisins were added to trail mix for that salty sweet combination everyone loves, but you can get that just as easily with chocolate.
Chocolate – Raisins
Is this really even a debate?
I rest my case.
Print
Raisin Free Trail Mix
Ingredients
Lightly salted peanuts
Popcorn
Pretzels
Chocolate candy
Dried fruit
Goldfish crackers
Instructions
Mix together all the ingredients.
Serve.
Store in an airtight container.
Courses Snack
The cool thing about trail mix is that really anything goes. You put in what you like and leave out what you don't. It's cheaper to make it yourself since you know your kids will be eating everything in it instead of just picking out the things they like.
After you make your trail mix take your family to see the new animated family movie The Nut Job. It looks like a pretty funny family movie about a squirrel who accidentally burns down the neighborhood tree leaving his friends with nothing to eat for the winter.
The squirrel happens upon Maury's Nut Shop, the one place that can supply everyone nuts for the winter. There are plenty of fart jokes and physical comedy (you know the animated kind) to keep little boys happy and there is a cute pug for the little girls. (My girls love pugs)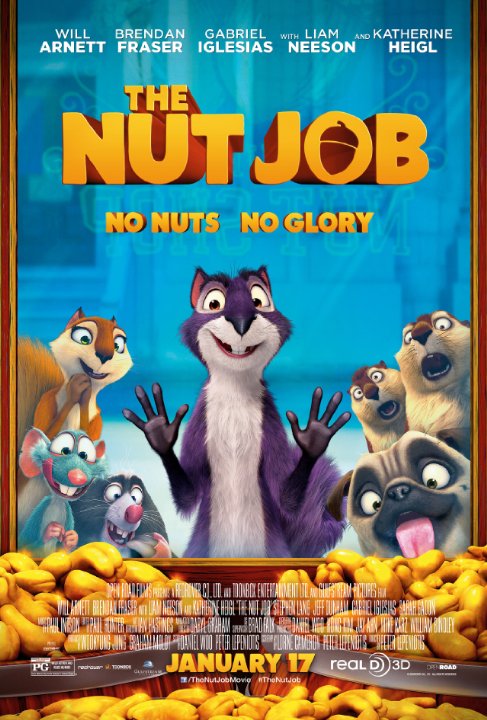 This looks like a fun movie for the whole family and I have a $50 AMC gift card to giveaway to one reader! 
To enter the giveaway leave a comment sharing the one thing you must have in your trail mix. For additional entries you can tweet about this giveaway using the hashtag #thenutjob. Please leave a comment letting me know you tweeted. Giveaway ends January 21, 2014.
For more information about this movie check out Facebook and Twitter.