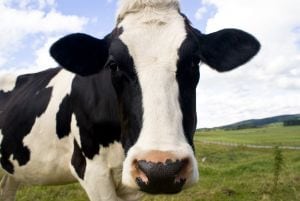 My husband forwarded me this article about a raw milk sting in Maryland.
According to the Washington Times:
A yearlong sting operation, including aliases, a 5 a.m. surprise inspection and surreptitious purchases from an Amish farm in Pennsylvania, culminated in the federal government announcing this week that it has gone to court to stop Rainbow Acres Farm from selling its contraband to willing customers in the Washington area.

The product in question: unpasteurized milk.
It was almost a year ago that I wrote about the fight for raw milk, and judging from the number of responses to that post, it's something you feel passionate about too.
I wasn't alive 100 years ago, but I think you could go to a farm and buy your milk fresh from a cow. A few years after that you could have it delivered to your door. Now, we have the federal government spending who knows how much money and resources to take down an Amish farmer?
Having just moved from Maryland, I am very familiar with this farm and the people who were buying this contraband. Reading this article made me shake my head. If people want to drink raw milk, let them! Stop spending tax dollars to tell people what they can and cannot eat or drink! I realize this farmer broke the law, but weren't our ancestors breaking the law when they dumped all that tea into the harbor?
I believe in the law and I believe in working within the law to promote change. But as long at the big food companies continue to fill our politicians pocketbooks, ridiculous yearlong sting operations will continue to happen.
I don't care if you eat McDonalds, vegan, raw milk, homogenized milk, or bugs for that matter. I just think the government should spend our money cracking down on real criminals.