Update: I just received a discount code for the upcoming class which begins September 16th. Enrollment ends on the 15th. Use the code housewife15 to receive 15% off the 12 week course.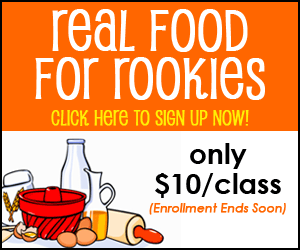 I am very excited to share with you an online cooking class that begins in a few weeks. It is taught by a fellow blogger Kelly, who blogs at Kelly the Kitchen Kop.
The class is called Real Food for Rookies and is a 12 week class that begins September 16th. If you want to learn how to make real food (without all those processed ingredients) then this class is for you. I know that many times we want to feed our family healthy food on a budget, but it can be confusing! There are so many conflicting opinions, so many options, and it is sometimes hard to begin. I remember when I first starting cooking with whole grains and I made whole wheat cinnamon rolls for the first time- they were terrible! I would have loved to take this class several years ago!
The classes include:
Reading Labels to Avoid the Junk
Choosing Which Fats & Oils to Use in Your Kitchen
Choosing Which Sweeteners to Use & Batch Baking Tips to Save Time
Choosing the Right Meats
Choosing the Right Produce
Choosing the Right Dairy
Healthy Breakfast Ideas
Healthy Lunches, Snacks and On-the-Go Foods
Healthy Dinners & Fast Food Alternatives
Superfoods Part 1
Superfoods Part 2
Beyond Real Food
If sign up for the class you will receive:
12 weeks of online classes with videos, downloadable audios, and written materials.
LIFETIME access! Read/listen/watch at your leisure: on your break at work, while the kids are sleeping, in your pajamas, whatever! If you have a busy week, no big deal, just pick it back up on your own schedule.
Exclusive expert interviews with Sally Fallon Morell (President of the Weston Price Foundation), Dr. Kaayla Daniel (author of The Whole Soy Story), Jane Hersey (Director of the Feingold Association), Tom Naughton (Fathead filmmaker), and now one more:  Jimmy Moore from the Livin LaVida Low-Carb blog!
BONUS: Thanks to my amazing sponsors, the price of this class will include so many generous members-only coupons and discounts that you'll be able to recoup over half of the enrollment fee! Discounts on Green Pastures cod liver oil, U.S. Wellness Meats, Biokult probiotics, natural skin care products & cleaning supplies, stainless steel pans, fermented food starters & supplies, and organic ghee.
BONUS: Free copy of the Kitchen Kop Real Food Ingredient Guide.
Members-only discussion forum (chat about Real Food all you want and no one will think you're a weirdo!)
I am planning on signing my daughter up for this class, and using it as part of a home economics curriculum. Wouldn't it be great to have your kids learn these things when they are young, rather than having to unlearn bad habits as adults? My favorite part about this class, Lifetime access! As a busy mom, I am glad these lessons will be available forever, so when life happens I don't have to miss something!
Now I know you are probably thinking that $10 a class (or $120) is a lot of money, and it is! But, I think you will earn back this money in a few months, by cutting the grocery bill, and maybe even the doctor bills, once your family starts eating better!