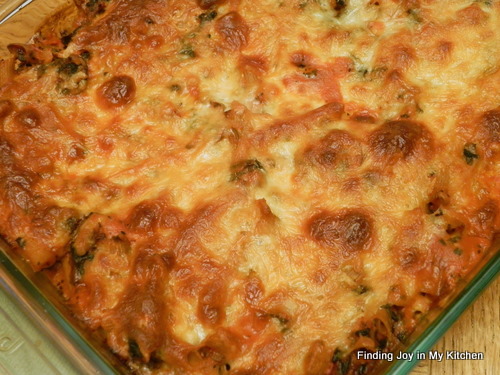 By contributing writer SnoWhite.
Dinners that can go in the oven in minutes and virtually bake themselves are winners in our home.  I love being able to toss a few ingredients together and have the opportunity to do other things while dinner is baking.  Recipes like these reduce dinner time stress.
This dish combines whole wheat pasta, red peppers, mushrooms, spinach and chicken sausage together garnished with a little cheese.  Wholesome and delicious – a great dinner for your family.
Print
Red Pepper Chicken Sausage Pasta Bake
Ingredients
4 links, red pepper chicken sausage
1 box (about 13 ounces) whole wheat penne pasta
4 cloves garlic, minced
1 tablespoon dried minced onion
1 (14 ounce) can diced tomatoes
1 (14 ounce) can tomato sauce
1 teaspoon basil
1 teaspoon oregano
8 ounces fresh mushrooms, sliced
1 medium red bell pepper, diced
1 (9 to 10 ounces) bag frozen spinach (or fresh)
1/2 cup half-and-half
1/2 cup mozzarella cheese, shredded
1/8 cup Parmesan cheese, shredded
Instructions
Bring a large pot of water to a boil.
Add the pasta noodles, and cook according to package directions. Then drain.
Slice the chicken sausage into thin rounds and place them in a large skillet.
Saute the chicken sausage with minced garlic, onion, red bell pepper and mushrooms over medium heat for 5 minutes. Add 1 teaspoon of olive oil if needed.
Add in the canned tomatoes (undrained) and tomato sauce.
Stir in the basil and oregano.
Season with salt & pepper, if desired.
Toss in the spinach (either fresh or frozen), and stir.
Reduce the heat to low, and simmer the sauce for 7-10 minutes, stirring occasionally.
Preheat your oven to 400 degrees F.
Lightly grease a 9x13 inch glass baking dish or a 3 quart casserole with cooking spray or olive oil.
Add the rinsed and drained pasta to the tomato sauce mixture and stir to blend.
Pour in the half and half. Stir well.
Transfer the pasta to the baking dish and spread it out evenly.
Top with shredded mozzarella and Parmesan cheeses.
Bake for 10-15 minutes until the cheese is lightly browned.
Notes
To freeze: Prepare as directed, except do not bake. Instead, cover tightly with foil and freeze. Place the frozen casserole in a cold oven, and then turn the oven on to 400 degrees. Bake, covered, for 1 hour. Then remove the cover and continue baking for 30 minutes until the cheese is browned and the dish is warmed throughout.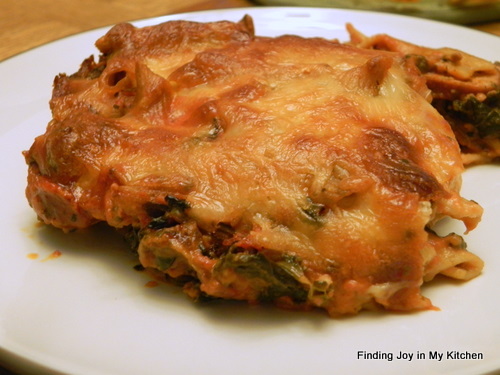 Feel free to tweak this recipe to your family's preferences.  Don't like mushrooms? Omit them.  Have Italian sausage in your freezer you need to use up?  Toss that in instead of the chicken sausage.  Your family doesn't like spinach?  Try pureeing it in with the tomato sauce … they will have a hard time telling the spinach apart from the basil and oregano.  Be creative!
This recipe was inspired by Rebekah.