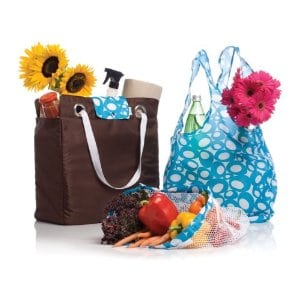 Do you wash your reusable grocery bags
? I don't, well at least I didn't until my mom showed me an article in her local paper about the bacteria lurking in these bags.
I use my bags for groceries, library books, bathing suits, overnights, school supplies and more. I never wash my bags, I never even thought about it, until now. After reading the article I realized that one week the store might put beef or chicken in the same bag that the next week holds fruit or toys. Yuck!
I know most  families battle the stomach bug every once in a while and who knows how many of those bugs were caused by contamination in reusable bags.
According to a recent study:
97% of shoppers do not wash their bags
75% don't use separate bags for meats and produce
30% use bags to carry things other than groceries
"Our findings suggest a serious threat to public health, especially from coliform bacteria including E. coli, which were detected in half of the bags sampled," said Charles Gerba, a UA professor of soil, water and environmental science and co-author of the study. "Furthermore, consumers are alarmingly unaware of these risks and the critical need to sanitize their bags on a weekly basis."
I have done all of these things, but not anymore. From now on I plan to:
Wash bags after trips to the store
Keep grocery bags separate from non grocery bags
Label bags for meat and produce and keep them separate
The study also found that storing bags in the trunk of a car can lead to increased bacteria growth. While it is convenient to store bags in the car, storing them in the house is better for your health.
From now on I'm washing my bags between trips, how about you?