Last weekend we spent our Saturday making some fun spring Rice Krispie treats. My kids love Rice Krispies and I knew they would be excited about being able to create some delicious snacks and while getting creative with food.
My favorite part about Rice Krispie treats is that we always have the ingredients to make them, butter, marshmallow, and Rice Krispies! I also love that you don't need to turn on the oven to make them and they are ready in just a few minutes.
We spent a few minutes on Rice Krispie's Pinterest page getting some idea for our treats.
You should definitely check out their page for great and creative ideas for recipes. My girls picked out a few of their favorites and we got to work making our treats.
Since we've been studying birds and bugs all year we thought it would be fun to make the robin's nests and caterpillar.
To say my girls were excited would be an understatement.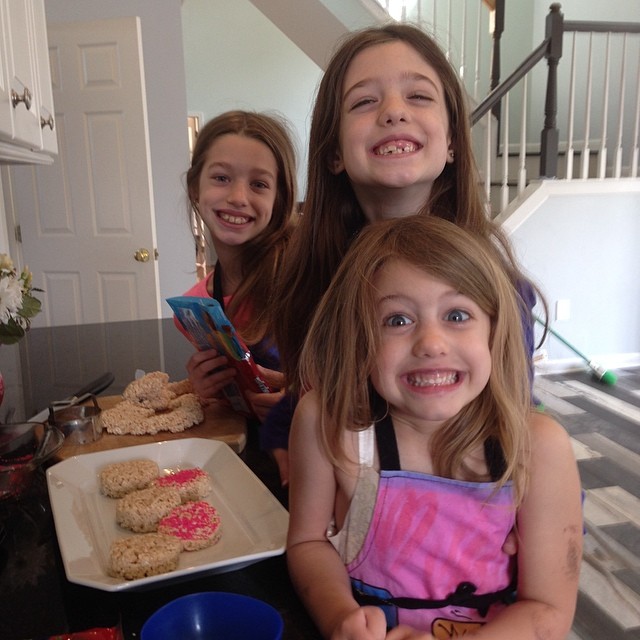 It's important to get your apron before you start.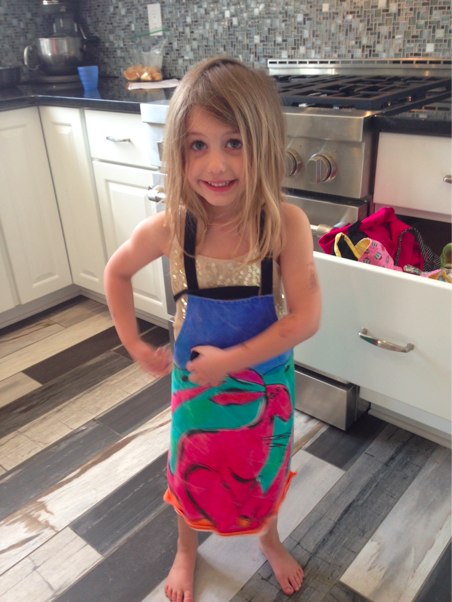 And of course gather your ingredients.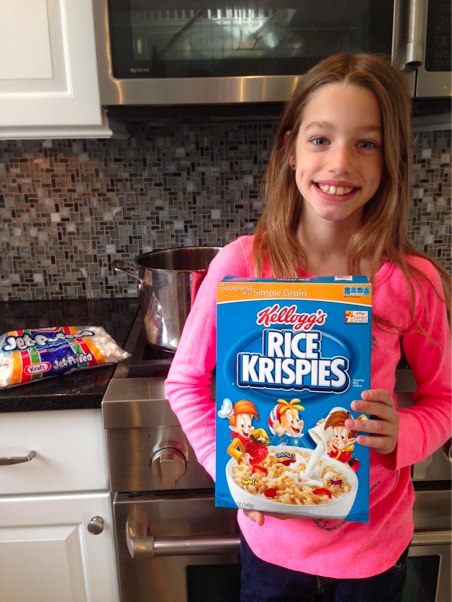 Take turns mixing, and make sure there is enough left over for mom to eat some out of the pan.
The girls were particularly excited about dying the coconut green. I can't believe we'd never done it before.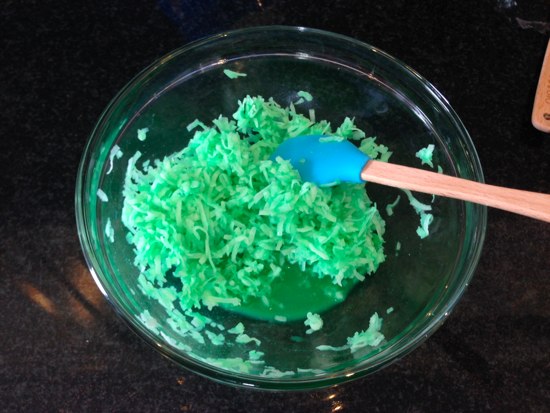 Our finished Robin's Egg nest treats, as you can see my girls had a little too much fun with the colored coconut! These were so cute and easy to make. I chose to use mini muffin tins for the mold because I thought it would be fun to make mini nests. You can use M&M's or jelly beans for the eggs. You can find detailed instructions here.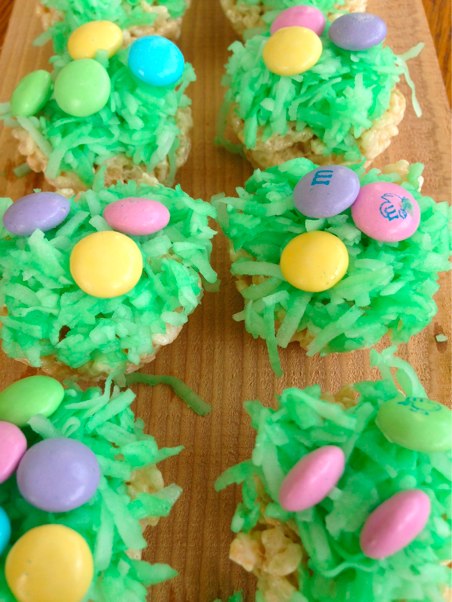 The caterpillar was also fun to put together.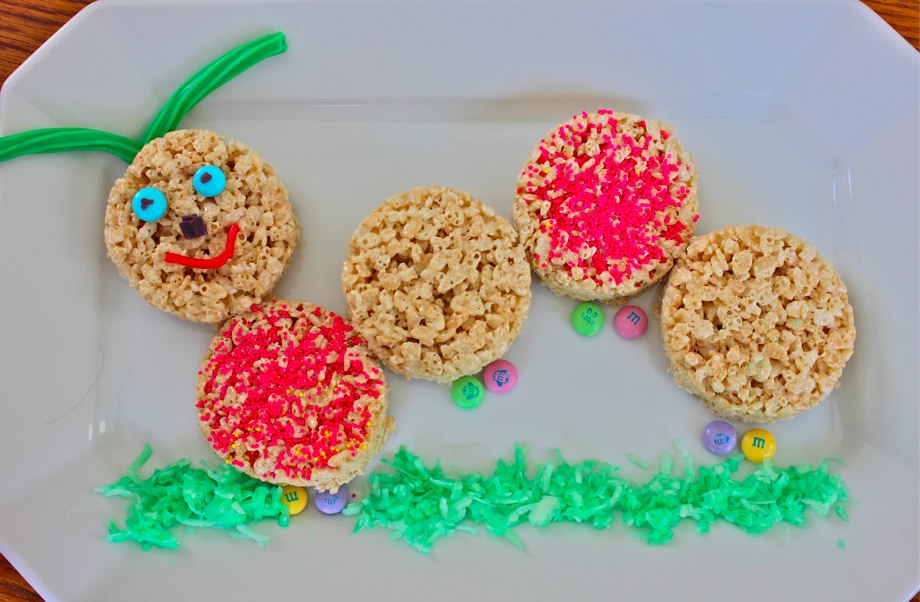 We used colored licorice for the face and the antennae. You can find detailed directions for the crawly caterpillar here.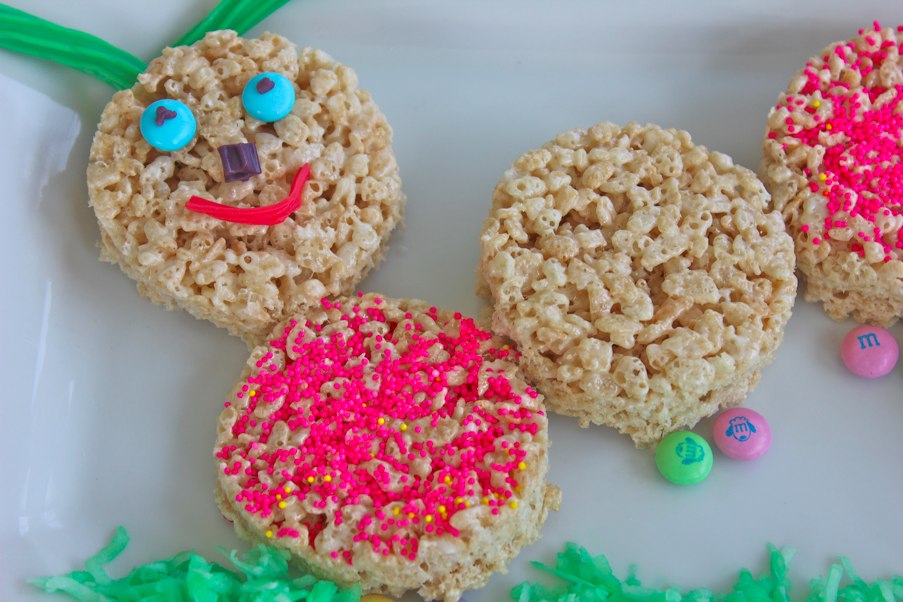 After we created our caterpillar and nests I let the girls create more treats with the leftovers. I was pretty impressed with their food design skills, and they were thrilled.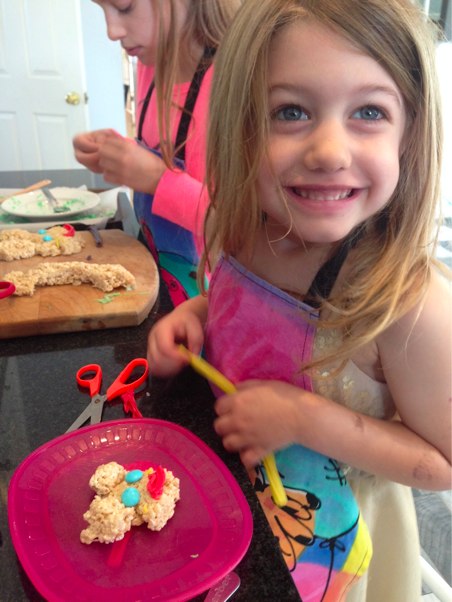 We made all these treats from your basic Rice Krispie treat recipe. I'm impressed!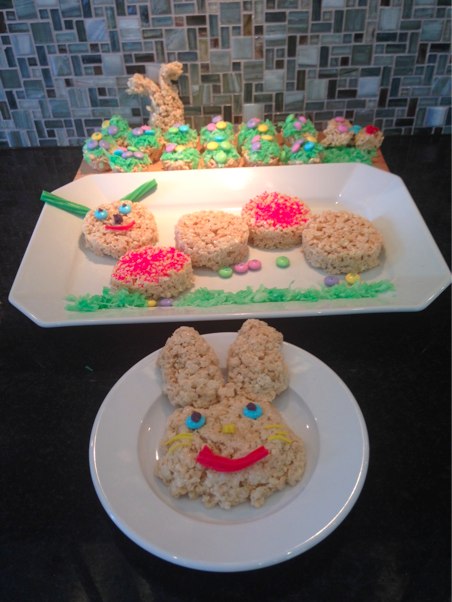 My girls loved making these treats and the whole project took us less than an hour from start to clean up. They tasted great too and while their brothers didn't help make them they definitely enjoyed eating them!
You can make these treats too! I'd love to see what you are creating so if you share your creations on social media use the hashtag #easytomake to inspire others to get creative too! You can also enter your Rice Krispie treat in their contest and win a gift basket. You can find out more about the treat making contest here.
For more spring treat ideas visit the Rice Krispies Spring Pinterest Board and RiceKrispies.com.
Follow Rice Krispies®'s board Spring has Sprung Recipes on Pinterest.


This post is sponsored by Rice Krispies, all opinions are my own.