by contributing writer Dawn
This recipe was born when I was taking salad to dinner at my in-laws. I had been sprinkling various seeds, nuts and dried fruit on my salads at home for a while but figured not everyone would want it on their own salads.
I threw this salad topping together and then wondered why I had never thought of premixing it before. It has become a staple in my kitchen and something I always take to pot-lucks when I take a tossed salad.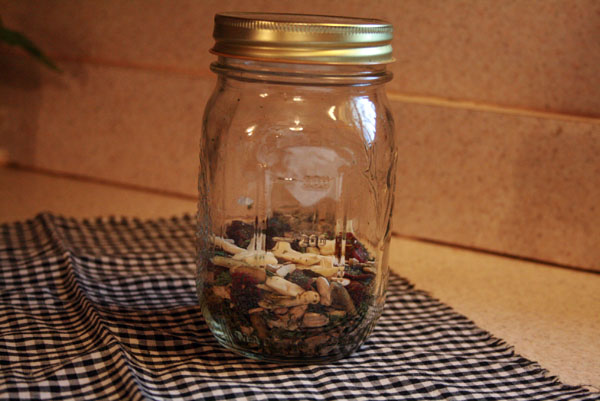 Print
Salad Topping
Ingredients
3 tablespoons dried cranberries
2 tablespoons raw sunflower seeds
2 tablespoons raw pumpkin seeds
2 tablespoons raw sliced almonds
1/2 tablespoon dried parsley
1/4 teaspoon freshly ground pepper
Instructions
Place all ingredients in a small mason jar with airtight lid.
Mix by inverting several times.
Shake to incorporate before sprinkling on your salad.
Find more delicious meal ideas at the The Happy Housewife Recipe Index.