This salad is so good your friends will be inviting you to every party and potluck as long as you bring the salad. The nice thing about it that most of it can be prepared in advance.
Salad with Feta, Roasted Almonds and Poppy Seed Dressing
A special thank you to Mrs. Jones for sharing this delicious recipe with me.
Poppy Seed Dressing
1/3 cup vinegar
3/4 cup sugar
1 teaspoon salt
1 teaspoon dry mustard
1 small onion
2 tablespoons poppy seeds
1 cup vegetable oil
Mix all the ingredients except oil in a blender. Once the ingredients are blended add the oil slowly until the dressing thickens. Refrigerate until ready to use.
Roasted Almonds
1 tablespoon butter
2 tablespoons sugar
1 tablespoon orange juice
1/4 teaspoon cinnamon
1/4 teaspoon red pepper
1 cup almonds
Melt the butter in a large skillet over a medium heat. Stir in sugar, orange juice, cinnamon, and red pepper. Add almonds and stir until they are coated. Spread almonds on a lightly greased baking sheet. Bake at 325 degrees for 15 minutes, stirring every 5 minutes. When cool, break apart and store in an airtight container until ready to use.
Salad
1 head romaine lettuce
Feta cheese
1 Asian pear, sliced
Roasted Almonds (chopped)
Dressing
Wash and chop lettuce. Add to the lettuce; feta cheese (crumbled), pear slices, and roasted almonds. Toss with the poppy seed dressing. Serve.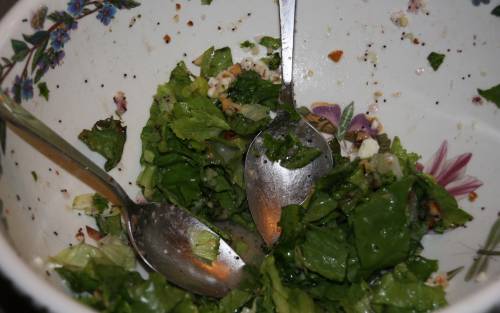 The salad was gone before I could get a photo!
This post is linked to Tasty Tuesday.