Time for another garden update.
Last week I planted many of my seeds in various items I had lying around the house.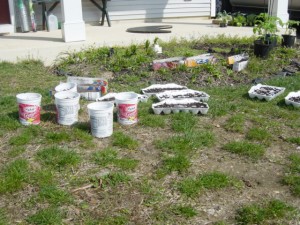 It is still a little too early to put things in the ground, and I am a little late starting the seeds, but better late than never I guess.
I planted the seedlings on a warm day and then of course it turned very cold this weekend. So we created a little greenhouse in our study to keep the seeds at a constant temperature. My husband set up some lights a space heater in the room.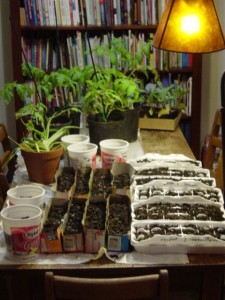 I was thrilled when I arrived home from the store tonight and saw this…
I realize the picture is a little fuzzy, for some reason my camera isn't focusing very well when I zoom in.
Anyway- I have little plants! My daughter and I were jumping up and down, high fiving each other when we made our discovery. So far, five of the cantelope seeds have sprouted, and one squash has sprouted. I am so excited! I also started tomatoes, eggplant, watermelon, and lots of peppers, but we haven't seen any sprouting from those seeds yet.
We went to Lowe's last week to pick up more supplies. I shopped the thrift stores first, but no one seemed to be selling rakes, wheelbarrows, or hoes, go figure. So I paid the big bucks and bought a bunch of equipment so that we can actually start doing work in the garden. I think my total cost for the garden so far is around $200, and that is for everything. Most of that went towards things that we will use year after year, so I still think this is a good investment.
Now I am really motivated to get going on the garden. This week we are going to repair the fence, clean up any more junk from the garden, and then hopefully till, if the weather cooperates. I hope to plant the potatoes, and transplant broccoli, cabbage, and lettuce within the week. I plan to take lots of pictures and will update again next Tuesday.
You can read more about my garden adventures by clicking on the links below.