Wondering what to make for dinner? Check out my family's favorite crock pot recipes for great dinner ideas!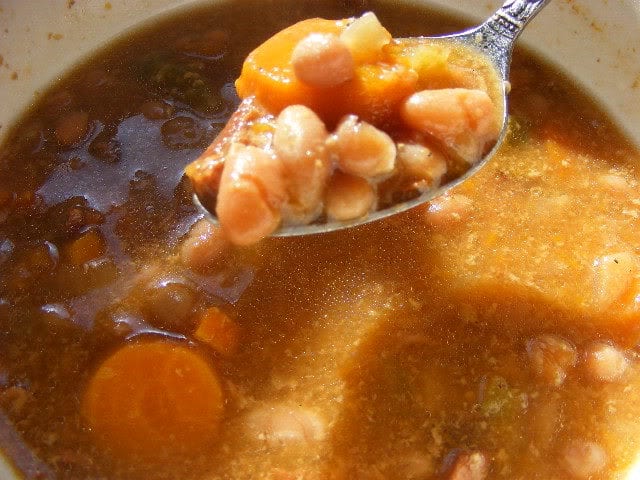 This delicious soup is healthy, cheap and filling on a cold winter's day!
I cooked mine with the ham bone that still had some meat on it. By the time the soup was done most of the meat had come off the bone. I cut the rest off and left it in the soup. I used the soup flavoring packet, but if you don't want to use it, you could add garlic, salt and pepper. This made a ton of soup, we had it for lunch and then again for another lunch. It tastes better the longer it sits!
Print
Slow Cooker Navy Bean Soup
Ingredients
1 bag dried navy bean soup mix (or just the beans)
1-2 cups chopped ham or ham bone (I used our leftover Christmas ham)
3 stalks celery chopped
3/4 cup onion chopped
2 cups carrots sliced (I used frozen carrots)
8 cups water
2 cups skim milk
Spices to taste
Instructions
Soak beans overnight in a bowl of water. The next morning drain the water and place beans in the crock pot.
Add the rest of the ingredients including the soup pack that came with the beans.
Cook on low for 8 to 10 hours.
Serve with crusty bread or crackers.
Courses Main Dish
Cost break down
Beans $1.97 (that seemed really expensive to me)
Ham (no cost, since it was a leftover)
Celery $.25
Onion $.30
Carrots $.50
Milk $.25
Soup $3. 27
Homemade Bread $1
Total for at least 8- 10 large servings… $4.27.