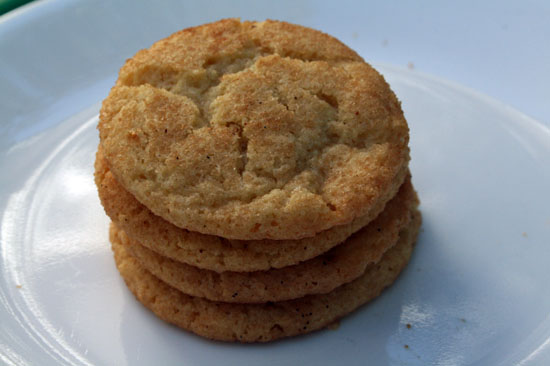 The following is a post from contributing writer Dawn.
To me, nothing says fall like baking. All summer, I wait impatiently for the weather to break so I can turn on my oven, and Snickerdoodles are one of the first things I make once the weather turns cool!
If you have never had a Snickerdoodle, and I hadn't until I met my husband, imagine a sugar cookie rolled in cinnamon. If baked on metal they are crunchy but I prefer a soft cookie and bake them on stoneware.
The original recipe calls for a different ratio of cinnamon to sugar than I have listed here. I cannot tolerate the amount of cinnamon in the original recipe, so it has been altered to suit our needs.  However, you can use up to four teaspoons of cinnamon in this recipe.
Print
Snickerdoodles
Yield 3 dozen
Ingredients
1 cup butter, softened
1 1/2 cups sugar
2 eggs
2 3/4 cups flour
2 teaspoons cream of tartar
1 teaspoon soda
1/4 teaspoon salt
4 tablespoons sugar
1 teaspoon cinnamon
Instructions
Cream butter and sugar until well blended.
Add eggs and sifted dry ingredients.
Mix cinnamon and sugar together in a small bowl.
Form the dough into 1-inch balls and roll in the sugar and cinnamon mixture.
Bake at 375F for 8 to 10 minutes until lightly browned but still soft.
Notes
The cookies will puff up at first, but then flatten.
Find more delicious meal ideas at the The Happy Housewife Recipe Index.