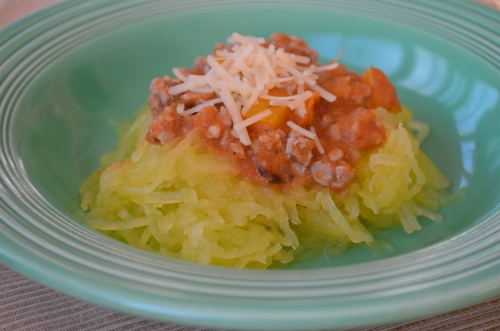 By contributing writer Kristia
If pasta is your passion but you want to avoid the carbs or gluten that comes with it, then you should definitely try spaghetti squash. It is so easy to cook and it a low-carb, gluten-free, and real-food substitution for boxed spaghetti.  My family devoured it, and my husband was so grateful that he can enjoy a "pasta" dish guilt-free.
Serve with a large garden salad and fresh fruit.
Print
Spaghetti Squash with Chunky Tomato Sauce
Ingredients
1 (2 ½ - 3 pound) spaghetti squash
1 tablespoon olive oil
1 bell pepper, chopped
1 small onion, chopped
2 garlic cloves, minced
1 pound ground turkey or beef
24 ounces store bought or homemade tomato sauce
shredded Parmesan cheese (optional)
Instructions
Preheat oven to 375 degrees.
Carefully cut the squash in half lengthwise. Scoop out the seeds and discard, compost, or roast for a snack.
Place the squash cut side down in a baking dish. Fill dish with about ½ inch of water. Cover with foil.
Bake for 45 minutes. Squash is done when a knife can easily pierce the rind.
Carefully remove squash from dish. Drag a fork through the pulp, creating the "spaghetti." Remove all of the pulp and set aside. Rind can be discarded or composted.
In a large saute pan, heat olive oil over medium heat. Add the peppers, onion, garlic, and ground meat. Brown meat until cooked through and the vegetables are soft.
Add the sauce to the pan and bring to a boil. Reduce to a simmer and cook about 5 minutes.
Serve meat sauce over the spaghetti squash. Top with Parmesan.
Courses Main Dish
More Food Allergy Friendly Recipes:
Find more delicious meal ideas at the The Happy Housewife Recipe Index.