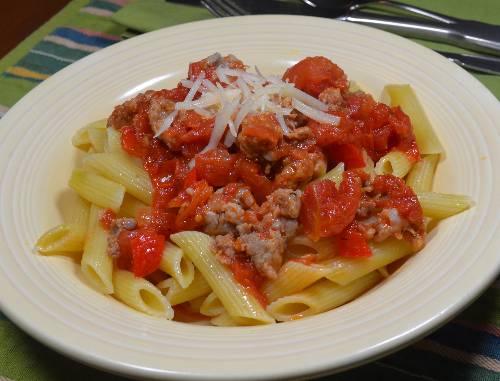 The following post is from contributing writer Kristia.
Spicy Sausage & Tomato Pasta is a hearty yet easy-to-prepare dinner on those busy weeknights when time is short but hunger is big. The level of spiciness is easy to alter to suit your family's taste buds.
Serve with a garden salad or fruit and homemade bread sticks.
Print
Spicy Sausage & Tomato Pasta
Ingredients
2 tablespoons olive oil
3 garlic cloves, minced
1 bell pepper, chopped
1 small onion, chopped
1 pound hot Italian sausage
2 (14.5 ounce) cans diced tomatoes with zesty chilies
1 (16 ounce) box uncooked penne
Parmesan cheese (optional)
Instructions
Cook pasta according to package instructions.
Heat the olive oil on medium in a large saute pan. Add the garlic, peppers, onions, and sausage. Break up the sausage into small pieces and cook until the sausage is cooked through and the vegetables are softened.
Add the tomatoes. Bring to a boil. Reduce to a simmer and cook for 10 minutes.
Combine the pasta with the sausage sauce.
Top with grated Parmesan cheese.
Notes
You can easily alter the spiciness to suit your family by using a combination of hot and sweet Italian sausage. Also, instead of using 2 cans of diced tomatoes with zesty chilies, use 1 can with the zesty chilies and 1 can of regular diced tomatoes.
Find more delicious meal ideas at the The Happy Housewife Recipe Index.