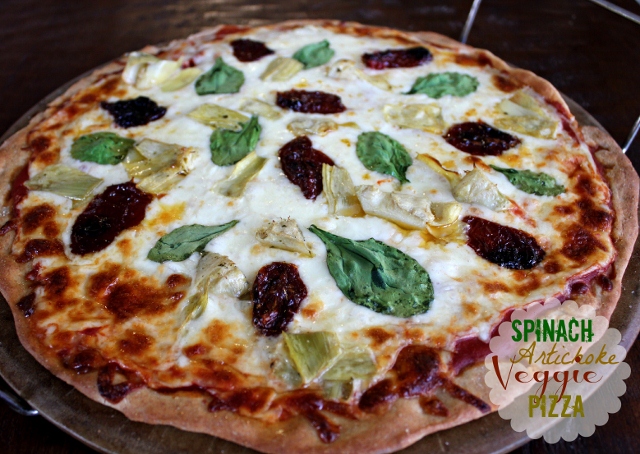 By contributing writer Brandy.
We love homemade pizza night at our house! We probably make pizzas twice a month, and I usually make something different each time.
I'm a veggie pizza lover myself, so this one got rave reviews from, well, me! I have experimented with several veggie toppings (and even sauces), and this is definitely one of my favorites!
Using this easy pizza dough recipe, I have our dough ready early in the day, and then when it's time for dinner prep, it's a snap! From counter to table, we have piping hot pizzas in under 30 minutes!
Experiment with your favorite toppings, too. I've tried cashews in addition to the spinach, artichoke hearts, and sun-dried tomatoes in this recipe. YUM! I've also used ranch dressing mixed with fresh garlic as a sauce. Can't go wrong there.
Any way you slice it, this veggie pizza is delish!
Print
Spinach Artichoke Veggie Pizza
Ingredients
pizza dough
1 cup pizza sauce
2 fresh minced garlic cloves
1/2 cup grated fresh parmesan cheese
2 cups grated fresh mozzarella cheese
handful of fresh spinach leaves
4 or 5 artichoke hearts, drained
4 or 5 sun-dried tomatoes, drained
Instructions
Spread pizza dough onto pan, and place thin layer of pizza sauce over dough.
Sprinkle minced garlic over sauce.
Place parmesan cheese, then a layer of mozzarella cheese onto pizza dough.
Place sun-dried tomatoes on next, sinking them down into the cheese so they don't burn while cooking.
Arrange chopped artichoke hearts and spinach leaves.
Bake at 425 until pizza crust is golden brown and cheese is bubbly on top.