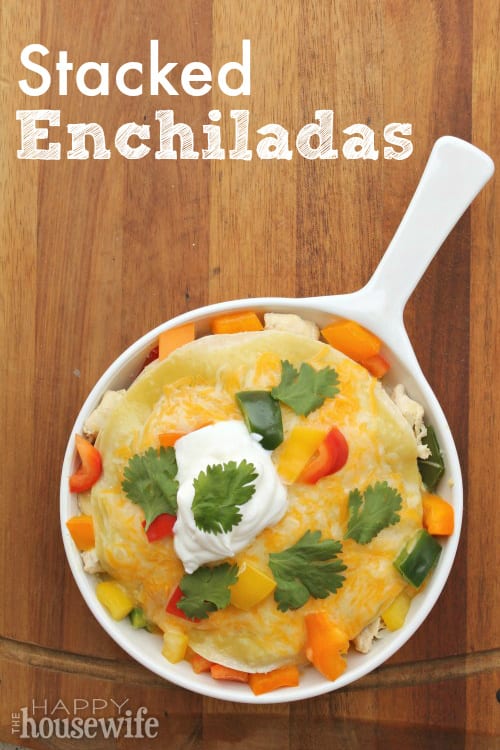 By contributing writer Beth
Stacked enchiladas have layers upon layers of Tex-Mex goodness with yummy tortillas dividing those layers. There's no doubting the comfort and delicious vibes that come from enjoying these. We use a mild green enchilada sauce. It adds a mellow flavor that still brings "south of the border" flair.
This is an easy dish to make to provide a filling meal for your family. Even a culinary newbie can throw together the short list of ingredients to offer up a meal fit for kids and grown-ups alike. And your kids will love to help make this recipe and slather it with toppings.
From the cheese to the chicken, from the sauce to the onions, stacked enchiladas bring a taste of the border to the table on any busy weeknight.
Print
Stacked Enchiladas
Yield 6
These ingredients are easy to find and easy to throw together in delicious, cheesy layers!
Ingredients
2 teaspoons vegetable oil
1 pound chicken, cut into cubes (we use breasts, but thighs would be delicious too)
2 teaspoons garlic, minced
1/2 onion, chopped
1 bell pepper, chopped
12 corn tortillas
1 (10-ounce) can enchilada sauce
8 ounces shredded cheese
Instructions
Heat the oven to 375 degrees. Spray a baking dish with nonstick cooking spray and set aside.
In a small skillet, heat the oil over medium heat. Add in the chicken, garlic, onion, and bell peppers. Cook until chicken is done and no longer pink.
In the baking dish, place one spoonful of enchilada sauce and spread around. Top this with a tortilla. Then spoon some of the chicken over the tortilla. Sprinkle with cheese.
Repeat the tortilla, sauce, chicken, and cheese layers until you get to the top tortilla. On top you'll use sauce and cheese.
Place in the oven and bake until cheese is melted.
Serve warm with salsa, sour cream, and guacamole.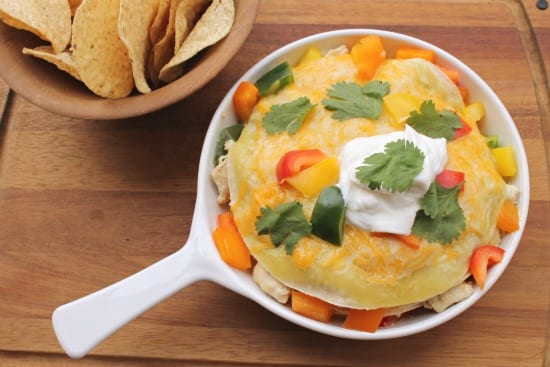 You might also like…