By contributing writer Andrea Green.
This isn't an actual "souffle" but it does rise and puff up as it cooks, making an impressive display when served hot out of the oven. Take advantage of the fact that strawberry season is just getting underway. Inexpensive berries make the perfect topping for this souffle.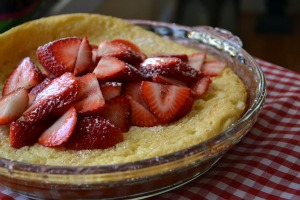 Print
Strawberry Brunch Soufflé
Ingredients
3 cups sliced strawberries
2 tablespoons organic evaporated cane sugar
2 tablespoons butter
3 eggs
1 1/2 cups milk
3/4 cup flour
1/3 cup sugar
1/4 teaspoon salt
1/4 teaspoon vanilla
Instructions
Sprinkle sugar over sliced strawberries and set aside.
Preheat oven to 375. Place butter in a 9 inch deep dish pie plate. Place the pie plate in the oven and allow the butter to melt while the oven preheats.
In a blender, beat together eggs and milk. Next, add flour, sugar, salt and vanilla to blender and blend until smooth.
Pour batter into pie plate and return the pie plate to the oven. Bake until you notice the edges are browning - between 25 and 30 minutes. As soon as the souffle comes out of the oven, top with the sliced strawberries and serve before the the souffle deflates.
Find more delicious meal ideas at the The Happy Housewife Recipe Index.