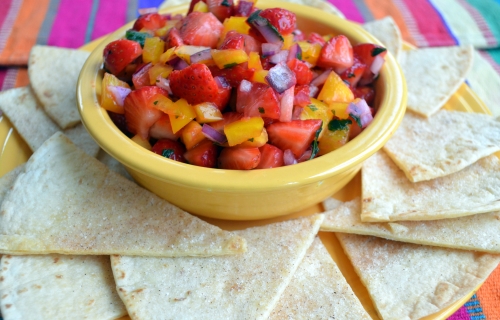 By contributing writer Kristia
Strawberries in salsa? Yep! This fresh and tasty salsa goes well with the crunchy homemade cinnamon tortilla chips or you can serve it over grilled chicken, fish, or pork.
Print
Strawberry Salsa with Cinnamon Tortilla Chips
Ingredients
16 ounces strawberries, cleaned & chopped
1/2 cup chopped red onion
1 red or yellow pepper, chopped
juice of one lime
2 tablespoons chopped parsley
pinch of salt
4-6 (8 inch) tortillas or 1 tortilla per person
melted butter
1/4 cup sugar
1/2 teaspoon ground cinnamon
Instructions
Combine the strawberries, onion, pepper, lime juice, parsley and salt together in a bowl.
Pre-heat oven to 350 degrees.
Place tortillas on a baking sheet.
Brush the top side with the melted butter.
Combine the sugar and cinnamon and sprinkle over the tortillas.
Cut the tortillas into eighths. A pizza cutter works well.
Bake for 10-12 minutes or until crispy. Keep a close eye. They will burn fast.
Courses Snack
Find more delicious recipe ideas at the The Happy Housewife Recipe Index.