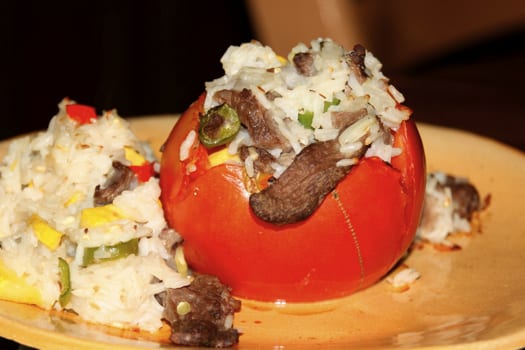 Stuffed tomatoes are easy, quick and cheap if you have a garden full of tomatoes. I put together this dish using leftovers and fresh veggies. This recipe can also be adapted to use whatever is in your kitchen. You can substitute ground beef or venison for steak and use whatever vegetables are in season. Also, I used white rice because I had some already made, but you could use long grain and wild, brown rice, or even Spanish rice for a Mexican twist. Yum!
Print
Stuffed Tomatoes
Ingredients
Steak
Large Tomatoes
Squash (chopped)
Rice (cooked according to directions)
Peppers (chopped)
Onions (diced)
Butter
Minced garlic
Salt and pepper to taste
Instructions
Take a cheap cut of steak and marinate for a few hours. Slice the steak very thin. Cook in a wok or frying pan in butter and minced garlic.
Once steak is cooked to your liking, remove from the frying pan. Saute the onions, squash and peppers in the juices from the steak. Cook the vegetables for 5 minutes then add the steak back in the pan as well as the cooked rice. Heat through.
Cut out the center of the tomato, start by cutting around the stem, then cut down in a "v" shape. Scoop out most of the insides, without piercing the skin.
Fill the tomato with the steak and rice mixture then place in a hot oven (350 degrees) for 5 to 7 minutes.
This post is linked to Tasty Tuesday.