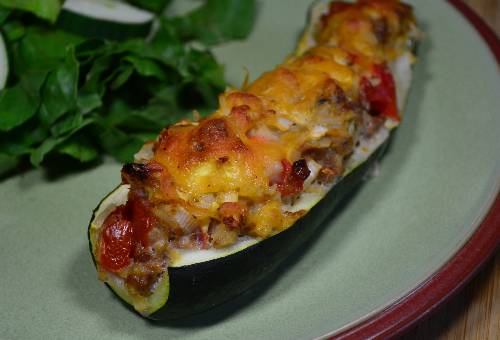 The following post is from contributing writer Kristia.
It's still that time of year where zucchinis have taken over gardens and everyone is trying to unload them to their neighbors.
Last month, I offered you a sweet treat with the zucchini muffins. This month, the zucchini recipe is savory and the main entree.
Print
Stuffed Zucchini
Ingredients
2 medium zucchini
1 pound Italian sausage, casings removed
2 garlic cloves, minced
1 small onion, chopped
1 medium ripe tomato, seeds removed, chopped
1 egg, beaten
½ cup cooked rice, slightly cooled
4 tablespoons shredded cheddar cheese (optional)
Instructions
Preheat oven to 350 degrees.
Cut the zucchini in half lengthwise. Scoop out the inside of the zucchini with a spoon. Chop up the insides and set aside.
In a large bowl, mix together the sausage, chopped zucchini, garlic, onion, tomato, egg, and rice.
Spray a baking dish with non-stick spray. Place the zucchini halves in the baking dish. Spoon the sausage mixture into the zucchini halves. Top each half with 1 tablespoon cheese.
Bake for 50-60 minutes or until a thermometer inserted into the stuffing reads 165 degrees F.
Notes
If you have more of the sausage mixture than zucchini, you can also fill a whole bell pepper. Simply cut the top off the pepper and remove the inside seeds. Fill the pepper with the extra sausage mixture. Bake the pepper upright in the same dish as the zucchini.
Courses Main Dish
Related articles