Did you know that during the month of October all regular footlong subs at Subway are only $5?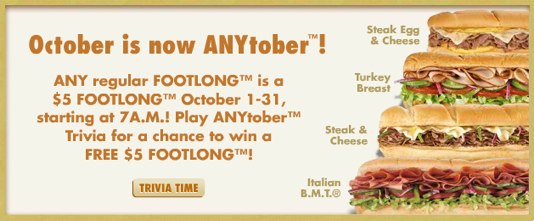 You all know that Subway is my favorite " fast food" and with $5 footlongs I can actually feed my family for a reasonable price. I'm usually able to feed three of my little kids with one footlong and the older kids split one.
I'm glad there is an alternative to burgers and fries out there!
The $5 ANYtober footlong is available all day long, every day from now until October 31st. So whether you are grabbing breakfast, lunch or dinner you'll find better for you choices at a lower price.
You can visit Subway's website for chances to win $5 footlongs by answering trivia questions.
You can also win Subway gift cards right here on The Happy Housewife. I have ten-dollar gift cards to give away to five readers! To enter to win a ten-dollar gift card share your favorite Subway sub. Giveaway ends October 8, 2011.
Disclosure: Subway provided me with gift cards to participate in the ANYtober promotion.