Say that title 3x fast, why don't you?
We are thoroughly enjoying summer here at the Happy House. From pool parties to taco night our house has been overflowing with friends and family and we are loving every minute of it!
To make our evenings extra special we've been celebrating with a little summer sundae fun. My kids LOVE ice cream, but we usually reserve it for birthdays and special occasions.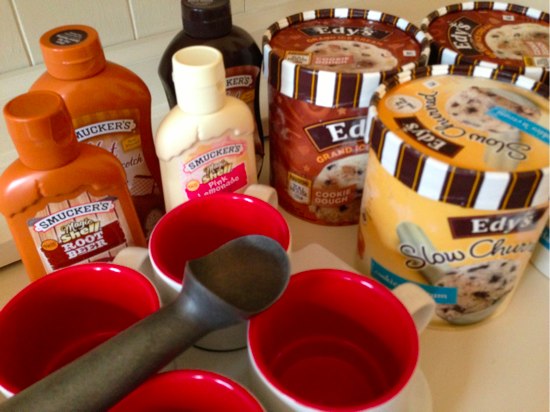 One really fun way to serve up your favorite flavor is an ice cream sundae bar. This is my kids favorite way to eat ice cream because they love creating their own masterpieces.
Here are a few ideas for  your sundae bar:
Cones
Smucker's Ice Cream Topping (our favorite is hot milk chocolate!)
Sprinkles
Red hots
Crushed candy or cookies
Peanuts
Whipped cream
Fruit (bananas, cherries, strawberries, blueberries)
Granola
Root Beer (create an ice cream sundae float!)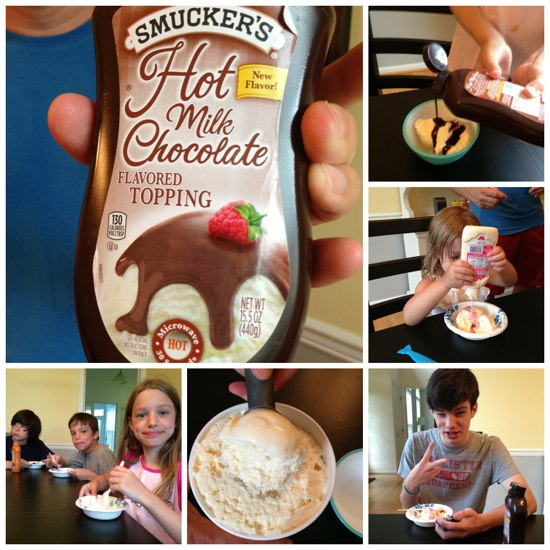 Line up all the ingredients in small containers and create a scooping station. Fill the bowls with a generous amount of ice cream and let your guests and family get to work topping! This works with cones or cups, but I've found you can get more topping on your ice cream when you use bowls!
Smucker's sent us some delicious toppings to use in our sundae station and we loved them! Cora's favorite was pink lemonade (of course) and I loved hot milk chocolate!
A sundae party is a great way to end a fun weekend, trip to the beach, or just celebrate being a family! Smucker's wants you to try some of their new delicious toppings so I have a sundae kit to give away to one reader that includes:
Smucker's Pink Lemonade Magic Shell Topping, Smucker's Root Beer Magic Shell Toping, Smucker's Hot Milk Chocolate Microwavable Topping, and Smucker's Hot Butterscotch Microwavable Topping
$50 American Express gift card for you to purchase any other items you may need
Beach themed disposable camera
Colorful beach towel
Banana Republic beach tote bag
Leave a comment sharing your favorite ice cream topping and you'll be entered to win. Giveaway ends July 15, 2013.