When I think of Thanksgiving I think of turkey, mashed potatoes, stuffing, rolls, and sweet potatoes with marshmallows and brown sugar.
Most of my kids like sweet potatoes, but love them at Thanksgiving when I dress them up with a few marshmallows. Since my kids love the Eggo mini waffles I thought why not combine two things they love?
These sweet potato bites were a huge hit, except for with my son who does not like sweet potatoes and popped one in his mouth thinking it was frosting. 🙂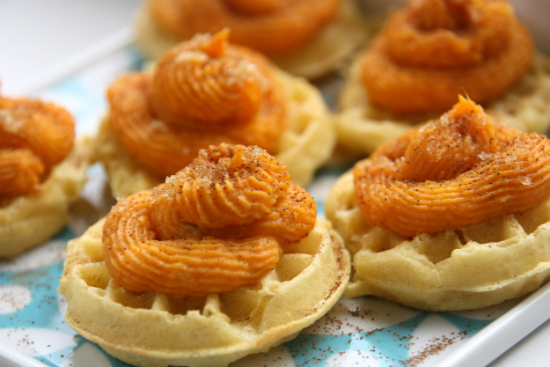 Print
Sweet Potato Bites
Ingredients
16 Eggo mini waffles
2 Sweet potatoes
1/2 Cup Marshmallow Fluff
Brown sugar
Cinnamon
Instructions
Cook sweet potatoes.
Cut open lengthwise and scoop out potato. Toss the skin.
Mix in marshmallow fluff with a fork.
Lightly toast Eggo mini waffles.
Dollop sweet potato mixture on top of each waffle.
Sprinkle with brown sugar.
Bake in a 350 degree oven for 5 minutes.
Sprinkle with cinnamon and serve.
I'm working with Eggo to provide themed recipes over eight weeks. All opinions and sticky fingers are my own.