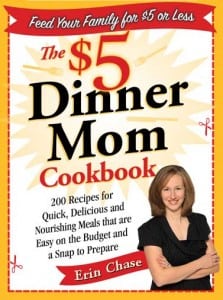 Would you like to cook delicious, healthy meals for your family for less than $5? Erin, the $5 Dinner Mom has written a cookbook, that will help you do just that. Filled with over 200 recipes, this cookbook will help keep your family on a budget while not sacrificing taste or nutrition.
From the website:
Erin became a supermarket savvy mom, challenged herself to create dinners for her family of four that cost no more than $5 and is here to share her fool-proof method with you in her first cookbook that contains over 200 recipes that cost $5 or less to make.  First, Erin will show you how to size up the best supermarket deals, clip coupons that will really save you money and create a weekly dinner menu plan. Then, in each recipe she shows you just how much she paid for each item and challenges you to do the same.
You can pre-order the cookbook now from Amazon
and many other bookstores, and the cookbook will be in stores on December 22. This would make a wonderful Christmas gift for any family who wants to save money on their grocery bill in 2010.
When you pre-order the cookbook you will receive The $5 Dinner Mom Holiday Recipe Pack.  Pack includes recipes, fun frugal facts and more great tips and tricks for serving a holiday dinner without breaking your normal grocery budget! Visit the $5 Dinner Mom cookbook page for more information regarding how to received your holiday recipe pack.