Lynn is an Oklahoma resident (thankfully her and her family are okay)  and will be donating a percentage of the ebook sales to help those affected by the tornado this week. Our thoughts and prayers go out to everyone in Oklahoma as they recover from this terrible devastation. 
My friend, Lynn from Lynn's Kitchen Adventures, has released a brand new eCookbook perfect for those with gluten sensitivities: The Gluten-Free Baking Mix Cookbook!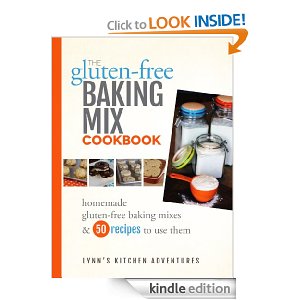 The Gluten Free Baking Mix Cookbook will show you how your gluten free baked goods can taste great without spending a lot of time in the kitchen. This is food your whole family will enjoy regardless of who eats GF in your home.  The eCookbook contains the master baking mix recipe, plus 50 gluten free recipes for your favorite foods including:
Sausage Cheese Biscuit Bites
Slow Cooked Chicken and Dumplings
Easy Pizza Pie
Easy Lasagna
Banana and Pumpkin Bread
Double Chocolate Fudge Brownies
Chocolate Chip Scones
Oven Pancakes
Today and tomorrow (5/21 – 5/22), The Gluten-Free Baking Mix eCookbook will be available for only 99¢ (reg. $4.99)!  Order the pdf version with printable recipes here or it's also available for Kindle on Amazon here.
If you don't have a Kindle, then you can still download these free eBooks to your smart phone or computer. All you need to do is download one of Amazon's free reading apps.
Remember that Amazon prices fluctuate constantly, so verify the price before purchasing.