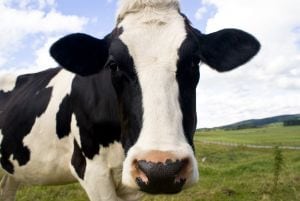 I can across an article online the other day about raw milk. I haven't written about it before, but our family loves raw milk. When we lived in Virginia we owned a cow share and had fresh, straight from the farm raw milk delivered every Saturday morning.
When we moved from Virginia we were sad to lose our raw milk because in Maryland it is illegal to buy raw milk. Illegal. Currently in Iowa there is a raw milk case in federal court. Lawyers for the federal government have argued that individuals have no fundamental right to obtain what food they choose.
According to a brief filed in April:
"Plaintiffs' assertion of a 'fundamental right to their own bodily and physical health, which includes what foods they do and do not choose to consume for themselves and their families' is similarly unavailing because plaintiffs do not have a fundamental right to obtain any food they wish," the government has argued.
I realize I don't write much controversial stuff on this site, but I cannot sit by while the government argues that it is their right to determine what food I can eat.
In my opinion (and this is just my opinion- I'm not trying to convince you to drink raw milk), what the federal government is really concerned about is losing support from the factory farms, processed food industry, and the well financed firms that lobby for them in Washington. They don't really care about your health or what you eat or drink, because if they were truly concerned for your health they would ban McDonalds, sodas, and Hot Pockets.
They primarily care about money, and this money is not coming from the folks at Weston A. Price, who are the most outspoken proponents of our right to buy, sell and drink raw milk. For years the government has been quietly creating laws that are putting the small farmer out of business. These small farms do not have the money to fight the excessive regulations that are continually imposed on them by our federal government, so many of them cease farming, leaving us with one less source of REAL food.
Here's the deal. I have read the arguments for and against drinking raw milk. I believe the benefits outweigh the risks, and should be able to make that choice for my family. If I felt like eating tree bark was good for me, then I believe I have the right to do that too. And you know what, if you want to eat pop tarts or a Big Mac, go for it! While I don't like that fact that there is a fast food restaurant on every street corner in America, I deal with it by not eating fast food, because it is my choice.
This issue isn't really about raw milk, McDonalds, or tree bark. It is about our right to choose what food we purchase, prepare, and feed our families  If the federal prosecutors in Iowa don't like raw milk, they don't have to drink it, I just wish they would stop forcing others to do the same.
A few books that have changed my thinking over the years concerning our food choices are; Holy Cows And Hog Heaven: The Food Buyer's Guide To Farm Friendly Food
, Everything I Want To Do Is Illegal: War Stories From the Local Food Front
, Don't Eat This Book: Fast Food and the Supersizing of America
, Fast Food Nation: The Dark Side of the All-American Meal
.