I'm working on converting all my recipes to a digital copy as I can't tell you how many times I've had to search for a paper copy of a recipe (usually handwritten on an index card) only to not be able to find it. That's why I am loving these eBook bundles that are full of recipes, since I'm digitizing my kitchen anyway!
In our days of fast food drive-thrus and prepackaged dinners, I am purposely seeking out real food recipes to feed my family.  I want my children to know how to prepare their own meals made with real ingredients and not have to depend on fast food or takeout.  This particular recipe eBook bundle has 17 eBooks for $14.97 or only 88¢ each!  With more than 800 recipes that's less than 2¢ per recipe!! Enough math…onto the recipes…
Are you new to real food and wish you had more healthy recipes…including snacks and money-saving ideas?
When someone asks, "What's for dinner?" do you have an answer? Is it "the same old?"
The Traditional Recipes Collection is here to help.
With 17 books, over 800 recipes and ideas, worth over $150 for just $14.97, this collection is an amazing deal. It's available through 11:59 PM ET on Saturday, Sept. 21. There will be no late sales. Please see the fine print at the bottom for all sale details.
With one simple purchase, you can get access to 17 different books from prominent and up-and-coming real food bloggers. There are books to teach you how to include more healthy ingredients, how to save time, how to save money, how to create food that goes with you, how to make desserts and holiday dishes, and so much more.
View the FAQ.
Books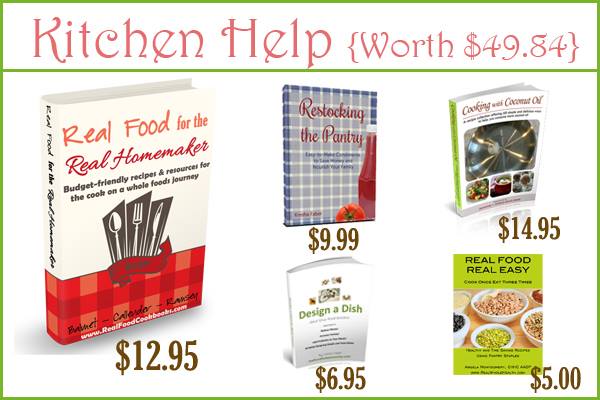 Kitchen Help

Main Dishes

Snacks and Sides
Desserts, Baking and Special Occasions
Bonus Offers
| | |
| --- | --- |
| | 15% off Real Salt orders. Get healthy, unrefined sea salt delivered to your kitchen. |
| | 5% off Wise Choice Market orders over $50. Pick up mineral-rich stock, soaked nut butters and cereals, or even potato chips made with coconut oil. |
| | Simple Natural Health by Nina Nelson of Shalom Mama. Keep your family healthy this winter not only with food, but with homemade remedies. |
| | One month FREE premium membership to Tradishen. Your premier 100% real food recipe and meal planning site. |
| | $25 off Dietician Cassie one year package — Get some help with personal nutrition and health coaching! |
Giveaways
In addition to the already awesome package we have here, one lucky reader is going to get the chance to win a Healthy Surprise box! If your family struggles with snacks, this company offers packages of healthy snacks that are delivered to your door once a month. There are three box sizes with different amounts of snacks in them. These snacks are all allergy-free (top 8), grain-free, vegan, and mostly organic. They're appropriate for almost any family!
No purchase necessary to enter.
Enter here:
View the FAQ.
Offer Details
Sale runs 9 AM EST Sept. 17 through 11:59 PM EST Sept. 21
No late sales
ALL SALES FINAL
Buyers may be from anywhere in the world; but books are only in English
There are no physical/shipped products; the bundle offer is digital only.
Download links are good for 5 attempts or through 10/31/13, whichever comes first.
Bundle may not be downloaded and links cannot be re-activated after 10/31/13
Bundle files may not be shared. Each book may be on only one computer/one residence at once
Buyers are permitted to share books if they send files they do not want to one other person and delete the files themselves, so only copy of each is in use
If buyers split the bundle, they only get one set of bonus offers and must share
Bonus offers must be claimed by 9/30/13
Bonus offers may not be available in non-U.S. areas
Bonus offers are made through a third party and we do not have any control over them. Items may be unavailable or sales may end without warning
By purchasing, you are certifying that you have read and agree to these terms and conditions