The following is a post from contributing writer SnoWhite.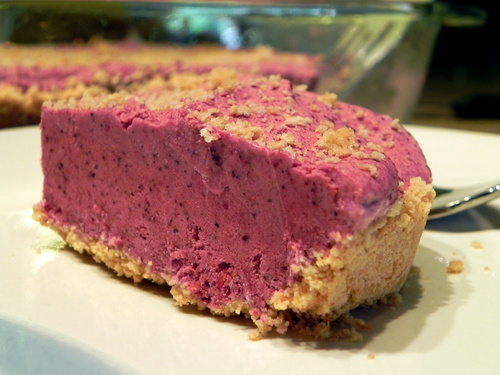 If you are having a summer barbecue, this is a wonderful dessert.  We make it using our triple berry cheesecake ice cream, but feel free to use your favorite variety.  A fruit-based ice cream makes for a perfect compliment with the sweet graham cracker crust.  Think cherry, strawberry, blueberry or raspberry!  You can even use frozen yogurt.
Print
Triple Berry Cheesecake Squares
Instructions
Begin by preparing the berry cheesecake ice cream according to directions.
Combine the crushed graham crackers with melted butter and mix.
Press 3/4 cup of graham cracker crumbs into the bottom of an 8x8 inch glass baking dish.
Chill for 10 minutes in the freezer.
Top with slightly softened triple berry cheesecake ice cream.
Sprinkle remaining 1/4 cup of graham cracker crumbs over the top of the ice cream layer.
Freeze for 4-6 hours before slicing to serve.
Garnish with fresh berries to serve, if desired.