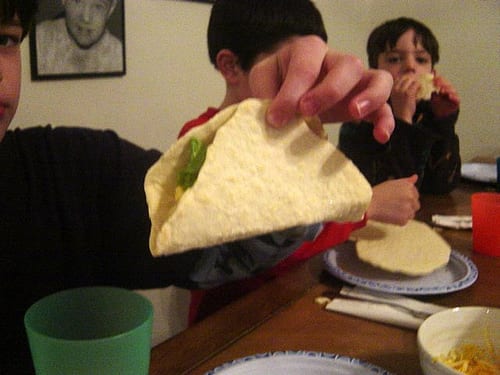 Many people have asked about the turkey tacos which are on my 30 Days of Meals plan. Turkey tacos are very simple and cheaper than tacos made with ground beef.
Print
Turkey Tacos
Ingredients
1 pound ground turkey
1 cup shredded Monterey jack cheese
1/2 cup sour cream
taco seasoning (make your own with this recipe)
chopped lettuce
1/2 cup salsa
tortillas (make your own with this easy and yummy recipe)
Instructions
Brown the turkey, then add the seasoning and cook for about 20 minutes.
Serve with all the fixin's.
Cost:
ground turkey $1.19
Monterey jack cheese $1.00 ( I purchase in bulk from Costco)
sour cream $0.30
taco seasoning $0.50 to free (there are always coupons on the taco shell box)
chopped lettuce $0.25
salsa $0.75 (you can find this much cheaper by purchasing in bulk)
tortillas $1.00
Total cost: $4.99