Did you know September is National Whole Grains Month? I didn't either, but I thought since we're celebrating (and what's not to celebrate about whole grains) I would share with you some of my favorite whole grain recipes, cookbooks, and tips.
As I've mentioned before switching from white flour for whole wheat in your cooking and baking is a great way to improve your family's diet.
Favorite Whole Grain Cookbooks
King Arthur Flour Whole Grain Baking: Delicious Recipes Using Nutritious Whole Grains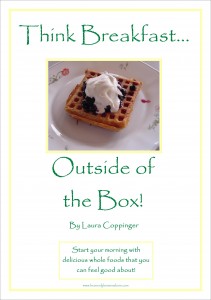 Think Breakfast Outside the Box

Whole Grain Baking Tips
Whole Grain Recipes
Are you cooking and baking with whole grains? What is your favorite recipe?