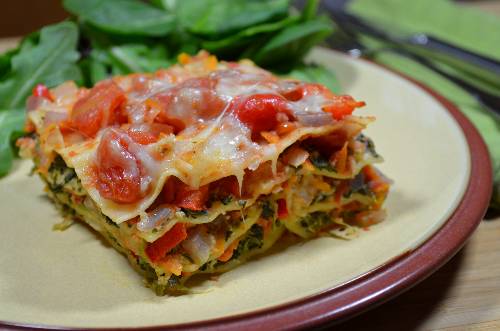 The following post is from contributing writer Kristia.
Homemade lasagna is the ultimate comfort food. This recipe is quite tasty and my husband and kids hardly noticed that it was meatless. If you're looking to increase your family's vegetable intake, give this Vegetable Lasagna a try!
Print
Vegetable Lasagna
Ingredients
2 tablespoons olive oil
3 garlic cloves, minced
1 large green or red bell pepper, chopped
1 large red onion, chopped
1 large carrot, shredded or chopped
2 14.5-ounce cans diced tomatoes
½ cup water
¼ teaspoon cracked pepper
½ teaspoon course kosher salt
½ teaspoon oregano
1 15-ounce container of part-skim ricotta
2 cups shredded mozzarella, divided 1 ½ cup and ½ cup
½ cup shredded Parmesan, divided ¼ cup and ¼ cup
1 egg, beaten
1 10-ounce box of frozen chopped spinach, thawed. Squeeze out excess liquid.
1 9-ounce box of no-boil lasagna, such as Barilla, (should include 12 noodles)
Instructions
Preheat oven to 350 degrees.
In a large skillet, heat olive oil on medium-low. Add the pepper, onion, garlic, and carrots. Stir and cook until softened, about 4 minutes.
Add the tomatoes, water, salt, pepper, and oregano. Bring to a boil. Reduce heat and simmer on low for 20 minutes.
While the sauce is simmering, combine the ricotta, 1 1/2 cup mozzarella, ¼ cup Parmesan, egg, and spinach. Mix well.
Coat a 13 X 9 baking dish with non-stick cooking spray. Spread 1 cup of the tomato sauce evenly on the bottom of the pan.
Place 4 lasagna noodles on top of sauce, overlapping slightly.
Spread 1/3 of cheese mixture evenly on top of noodles.
Spread 1 cup of sauce on top of cheese.
Repeat the noodles, cheese, sauce layers two more times. Top with the last 4 noodles.
Pour the last cup of sauce evenly on top. Sprinkle the ½ cup of mozzarella and ¼ cup of Parmesan on top.
Spray a piece of foil large enough to cover the baking dish with non-stick cooking spray. Cover the baking dish with the foil and bake for 45 minutes. Remove foil and bake for another 15 minutes. Remove from oven.
Let the lasagna rest for 15 minutes before cutting.
Notes
You may use cooked lasagna noodles, just follow box instructions for cook time and preparation.
Find more delicious meal ideas at the The Happy Housewife Recipe Index.