Think waffles are only for breakfast? Think again! Waffles make a great snack for any time of day. When I started to get fit I ate the Eggo Nutrigrain waffles for a quick snack or breakfast when I was short on time.This week I'm going to be sharing some of my favorite waffle recipes with you.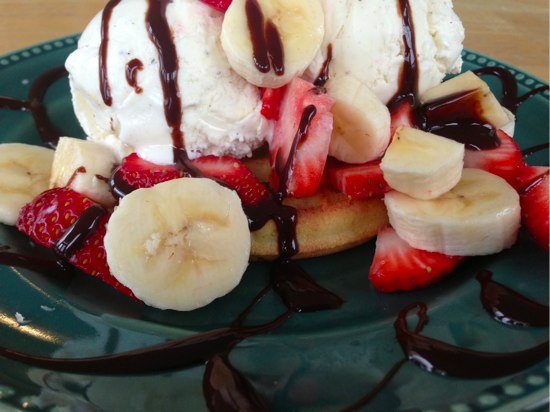 One of our birthday traditions is to make the birthday boy or girl a special birthday breakfast. What's more special than getting ice cream for breakfast on your birthday?
My kids don't eat a lot of ice cream, so getting it for breakfast is a huge treat! Make their birthday extra special with this Eggo waffle banana split.
Print
Waffle Banana Split
Ingredients
1 Eggo waffle
2 scoops Breyers ice cream
1 dollop whipped cream
4 strawberries (sliced)
1 banana (sliced)
chocolate syrup
Instructions
Toast the waffle.
When the waffle is toasted place on a plate.
Add two scoops of Breyers ice cream.
Add 1 dollop of whipped cream.
Sprinkle with strawberries and bananas.
Drizzle the entire creation with chocolate syrup.
I'm up for a challenge. This week I'm sharing some of our favorite waffle creations- but I need your help! What ingredient would you like to see paired with waffles? Leave your suggestion in the comments and you might see it on the blog this week!
Do you have a great waffle recipe? Head over to the Eggo Facebook page and enter your recipe creation in The Great Eggo Waffle Off!
I'm working with Eggo to share great recipe creations this week. All opinions and recipes are my own.