From Lindsay:
I am hoping to do more from-scratch cooking in 2011. I was wondering what brand of bread maker you would recommend? I'd like to do our own bagels, english muffins and bread if possible and more than anything, I'd like the bread maker to mix, knead and raise the dough for me! Thank you!
Great question Lindsay! When we made the switch to grinding our own grain in 2005, I knew that I needed a quality bread machine or I wouldn't have the time to make bread. I researched and read numerous articles online about the best bread machine for whole wheat baking and decided on the Zojirushi BBCCX20 Home Bakery Supreme Bread Machine
.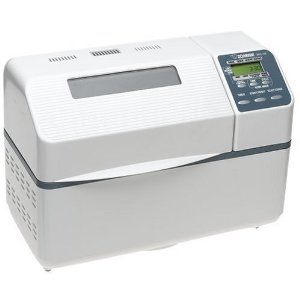 I chose the Zojirushi because I wanted to own a bread machine with a name I couldn't pronounce. Just kidding, I chose it because it had the best reviews for kneading whole grain bread. Many of the less expensive machine's motors fail because of kneading whole grains. I also liked the Zojirushi because it has an extensive custom setting menu, so you can set your own knead, rise, and bake times for recipes. Finally, the loaf looks like a regular loaf of bread, not a tower, and since I knew I would be using it to bake in the summer, I thought a regular "looking" loaf of bread would be better for my family.
The downside of the Zojirushi is the price. It costs around $200 which is 3 to 4 times more expensive than most other machines. I have been using the Zojirushi for 5 and a half years almost every day and it still works like it is brand new. I've never used another machine so frequently so I don't have anything to compare it to, but I would buy another one if I needed to replace it.
If you look through my bread recipes, you will lots of photos of my Zojirushi covered in dough, flour, or some other ingredient. I am tough on my appliances and I have been very happy with how the Zojirushi has held up over the past five years.