Wondering what to make for dinner? Check out my family's favorite crock pot recipes for great dinner ideas!
Update: If you have a minute, read through the comments, my readers have added some awesome tips and ideas for cooking whole chickens. I have also posted a whole chicken in a crock pot video tutorial for those who are interested.
I am convinced that buying a whole chicken is one of the best values for your grocery budget. I regularly see whole chickens on sale at various grocery stores for under a dollar a pound.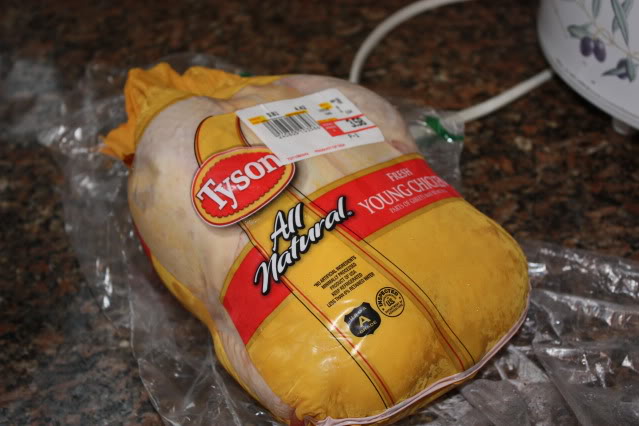 The problem with whole chickens is that no one wants to touch them, or mess with them once they are cooked. I was once like that too, but then I realized how much money I could save by buying whole chickens and I quickly got over my "whole uncooked chickens give me the heebie jeebies" thing and got cooking.
Cooking a whole chicken in the crock pot
is super easy. First unwrap the chicken, remove the bag of innards from the cavity and give the chicken a quick rinse. (Read the comments for ideas on what to do with the innards from the chicken)
After rinsing the chicken place in a crock pot that has been sprayed with non-stick.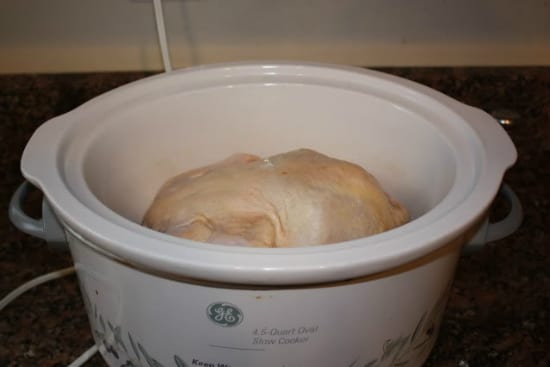 You do not need to put any liquid in the pot, just the chicken.
Then sprinkle your favorite spices on the chicken. I usually sprinkle garlic and paprika.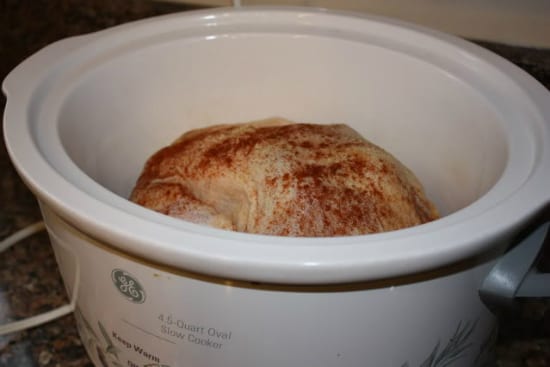 Place the lid on the crock pot, set on low, and walk away for about 7 hours.
7 hours later you will have a beautiful cooked chicken ready to serve for dinner.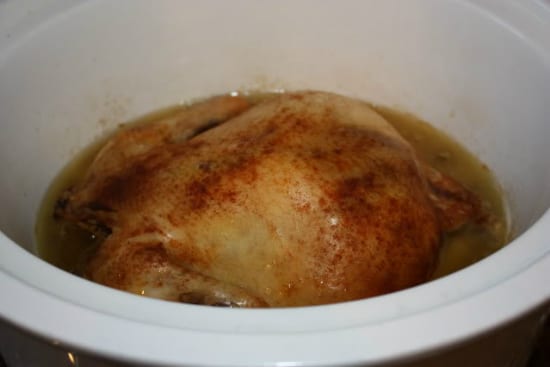 Remove the chicken from the crock pot, cut and serve. Do not throw away the liquid in the crock pot.
If you do not want to serve the chicken for dinner, allow the chicken to cool and then remove the meat from the bones. You can use the meat like you would any other cooked chicken, in casseroles, chicken salad, chicken pot pie, pastas, etc.
Once you have removed all the meat from the bones, put the bones back in the crock pot and add about five cups of water. I also put the skin back in the crock pot since my kids won't eat it.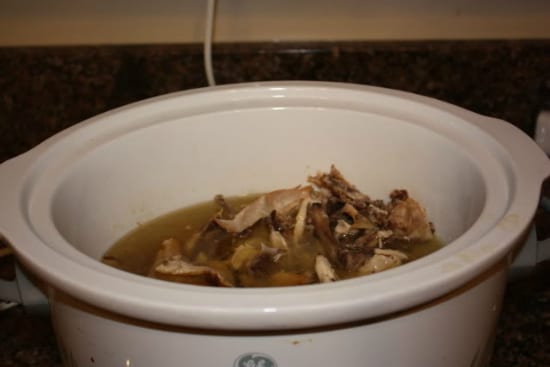 Set the crock pot
on the low setting and cover. Let it cook overnight. In the morning you will have a crock pot full of bones and chicken broth, and your house will smell like Boston Market for the next day or two.
Strain out the bones and you have homemade chicken broth for free!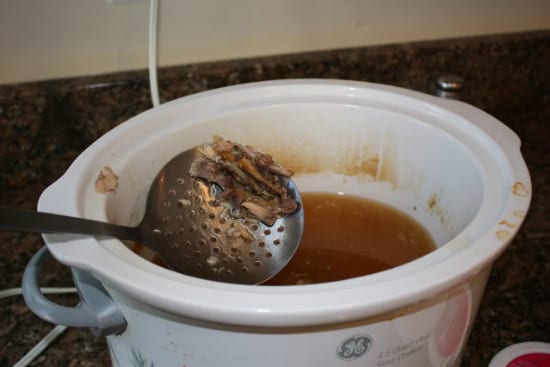 Not only is it free, it is free from all the preservatives, salt, and other junk you find in some of the store bought chicken broth. I store my broth in large yogurt containers.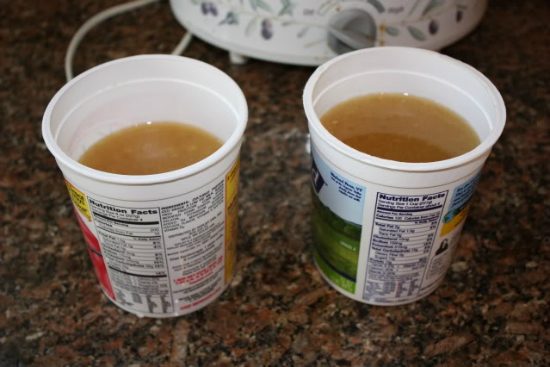 I got about 50 ounces of broth from one chicken. After you put the broth in a container, place in the fridge to cool. When the broth has totally cooled a layer of fat will be on the top.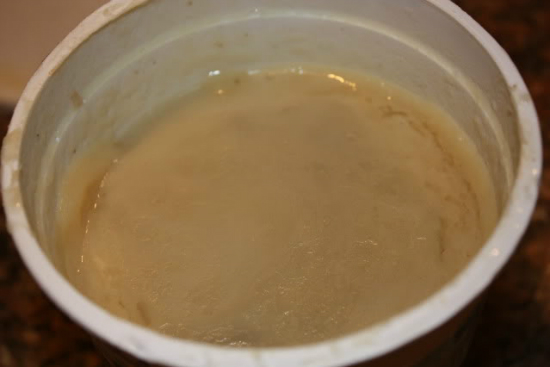 Scrape the fat off with a spoon and the broth is ready to be used or can be stored for up to six months in the freezer. Don't throw away the fat, it can be used in other recipes.  Also, see How to Reheat Chicken Broth.
Whole Chicken in a Crock Pot Meal Ideas
Meal #1 (served 7): Chicken and Mashed Potatoes
Chicken $4.00
Mashed Potatoes $1.50
Veggies $0.79
Biscuits $1.00
Total cost $7.29 or about a $1 per person
Meal #2 (served 7): Chicken and Rice Casserole
Chicken Free from leftovers
Rice $0.50
Cream of Chicken Soup $0.75
Veggies (I used chopped broccoli and carrots)  Free from leftovers
Spices $0.25
Cheddar Cheese $.50
Cook rice according to the directions. Chop leftover chicken, and veggies. Mix with cream soup and add spices. (I used garlic, minced onion, and red pepper flakes). Combine the cooked rice with the chicken mixture. Spread in a 9×13 casserole dish, sprayed with nonstick. Bake covered for 15 minutes at 350 degrees, then uncover, top with cheese and bake until the cheese melts.
Tip: If you want to use brown rice for this recipe, replace half the water with your chicken broth. Even your pickiest eaters will love it.
Total cost $2.00 or $.30 per person.
By purchasing one chicken I was able to make two meals and get about $3 worth of chicken broth from a $4 chicken.
More Chicken Recipes to Try: