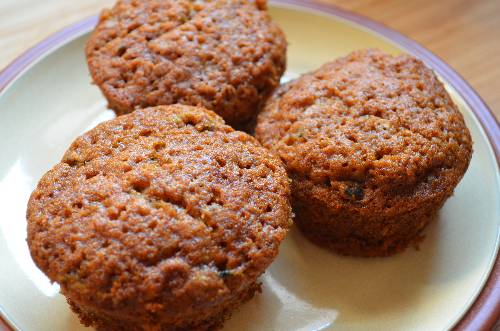 The following post is from contributing writer Kristia.
Is zucchini taking over your garden?
Is your neighbor trying to unload his abundance on you?
I'm not sure what it is about zucchini, but there are times when I think it could help solve world hunger; there is always so much of it.
While zucchini makes a great side dish, I absolutely love it as a sweet treat.  But not too sweet. I reduced the sugar in this recipe by half and replaced it with honey. These muffins make a delicious mid-morning or afternoon snack…and will help you use up that zucchini bounty.
Print
Zucchini Muffins
Yield 12 muffins
Ingredients
½ cup sugar
½ cup butter, softened
½ cup honey
1 teaspoon vanilla
2 eggs
½ teaspoon salt
1 teaspoon baking soda
½ teaspoon baking powder
1 1/3 cups flour
1 teaspoon cinnamon
2 cups shredded zucchini
½ cup chopped nuts, such as walnuts or pecans (optional)
½ cup dried fruit, such as raisins, cranberries, apricots (optional)
Instructions
Pre-heat oven to 350 degrees.
In large mixing bowl, beat the sugar, butter, and honey until smooth.
Add the vanilla and eggs and beat until just combined.
Add the salt, baking soda, baking powder, flour, and cinnamon and mix until combined.
Stir in the zucchini, nuts, and dried fruit.
Pour the batter into a greased muffin pan.
Bake for 25 minutes or until the muffins are golden and a toothpick comes out clean.
Courses Bread